Looking for ideas for what to do over this sunny half term?
Take a look at our list of activities, including free days out, to inspire you!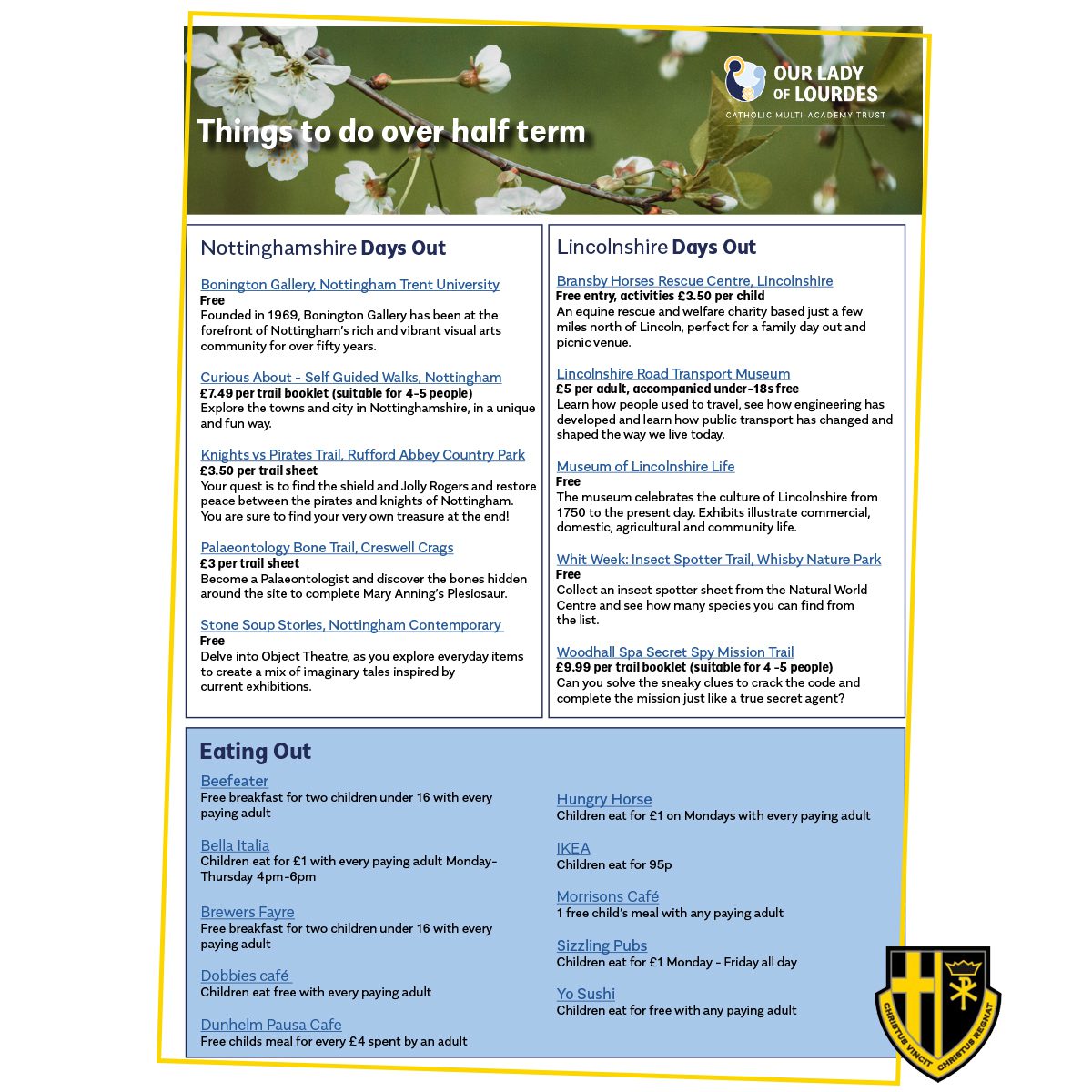 During the last few surveys completed by students and parents, there has been a great demand for the introduction of the Duke of Edinburgh Award at CTK.
Last term we appointed Mr Josh Hudson as our DofE Co-ordinator. He is very excited to begin the preparation work for this.
We will be offering this opportunity to our students from September 2023. If your child is interested in getting involved or finding out more then they should email DofE@christtheking.notts.sch.uk to express their interest.
The summer term is always a busy and enjoyable time in the delivery of our careers curriculum, with some of the larger events taking place.
On Thursday 20th April we welcomed over 14 employers to take part in our annual CtK Careers Fair. Throughout the day, all year groups had the opportunity to spend time talking to employers including Rolls Royce and Experian as well as a range of universities, junior doctors and apprenticeship advice teams. We also offered a 'calm' session where our students with sensory needs were able to explore the fair with a reduced number of students in the hall. Keep an eye out on social media for some photo updates!
During the summer term, our Year 10 and Year 12 students will take part in work experience. Many students have already found placements and it is our expectation that all students in Year 10 and Year 12 take part in work experience week. If you haven't already arranged your placement, please do so. Information on how to do this can be found on our website under the 'Careers Advice' tab. You can also email Mrs Myatt for further help if required amyatt@christtheking.notts.sch.uk.
Year 10 work experience week: 3rd July – 7th July
Year 12 work experience week: 17th July -21st July (although we support students in placements throughout the academic year).
Finally, we will continue to deliver our bespoke career lessons to all year groups as timetabled by our careers curriculum.
Last term saw the launch of our Mission Champions. Each tutor group has chosen a Mission Champion. All Houses are leading a project in order to follow Catholic Social Teaching and the importance of caring for others. This may be focused on a charity or raising awareness about something that is important for the care of others and themselves.
Each House has their own project that was suggested in form time and agreed on in the Mission Champion House group. Their chosen projects are:
Canterbury– Autism Awareness Day and Tourette's Awareness Day
Holywell – Equality for all, focus on equality for women
Lindisfarne – Cancer research and care for the environment
Iona – Raise awareness and funds for Ukraine​, Raise awareness of Mental Health
Walsingham – Black Lives Matter​, Raise money for Turkey/Syria disaster
I hope that you have all had a wonderful Easter break. We are pleased to be welcoming our students back for the final term of this academic year. This is an important term, especially for our Year 11 and Year 13 students, as they work towards their final GCSE and A Level exams. We will continue to do all that we can to support them to reach their full potential. Please do all that you can to ensure that they attend school every day and that they arrive on time.
Please also support them in their preparations by talking to them about the importance of keeping active, eating healthily, ensuring that they get enough sleep and that they find the correct balance of studying and relaxation. We saw through their mock exams that a number of students are growing increasingly anxious about the upcoming exams. It is important that they hear the same messages from us all that we only want them to be doing their best, we cannot ask them to do more than that. I believe that as long as they work well with their teachers and put the effort in by revising independently then they will achieve the success that they deserve.
Jo Love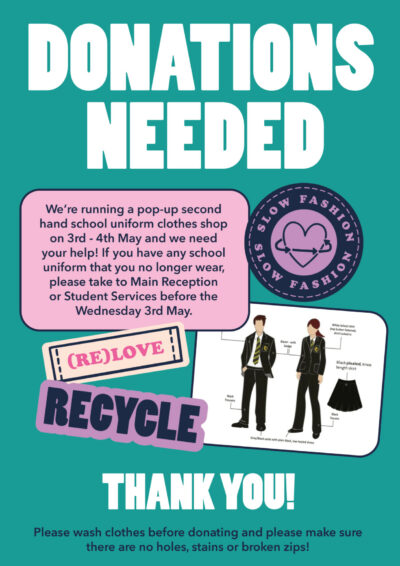 The School Council are organising a pop-up second-hand store, running from 3rd-4th May, offering preloved uniform, and they need your help and support!
Could you please send in any preloved uniform donations, including PE kit, into school, either with students directly or drop it into the recycling tub in reception before Wednesday 3rd May.
Hopefully this will go a little way to help us reduce the 1.4 million school uniform that are thrown away every year as well as help us with the increasing cost of living that we are all experiencing.
This will also allow us to develop our mission as Stewards of Creation, help cut our carbon footprint as well as make us think about the impact of fast fashion and textile waste.
As part of your next steps we would like to invite you in on Friday 15th July to help to prepare you for life at CTK Sixth Form. You will meet with each of your A Level subject teachers who will provide you with material and guidance to support you in preparing for September. You will also have sessions with the wider Sixth Form team.
The day will start at 8.45 in the Common Room. Please bring a bag and equipment for learning. You should wear your own clothes and you will be expected to provide your own lunch.
We look forward to seeing you