Today we held an awards ceremony for our students who have successfully completed the ASDAN Science Short Course.
In the world of science, every step forward is a victory, and we are not just acknowledging academic accomplishment but the triumph of determination, perseverance, and the strength that lies within each one of the students who achieved this qualification.
There is a quote from the Bible that resonates with the spirit of this occasion. In Ecclesiastes 3:13, it is written, "And also that every man should eat and drink and enjoy the good of all his labour—it is the gift of God." Our students hard work and dedication have borne fruit, and we celebrate this gift of success.
This achievement is a collective triumph of the entire learning community. We are all immensely proud of the progress our students made and the challenges they overcame. We would also like to express our thanks to the Teaching Assistants who have worked tirelessly to support our students. Their commitment, care, and encouragement have played a really important role in helping each of the students reach this milestone.
So, to our incredible Year 10 students, congratulations on this well-deserved accomplishment. May this be just the beginning of a journey filled with continued success and discovery.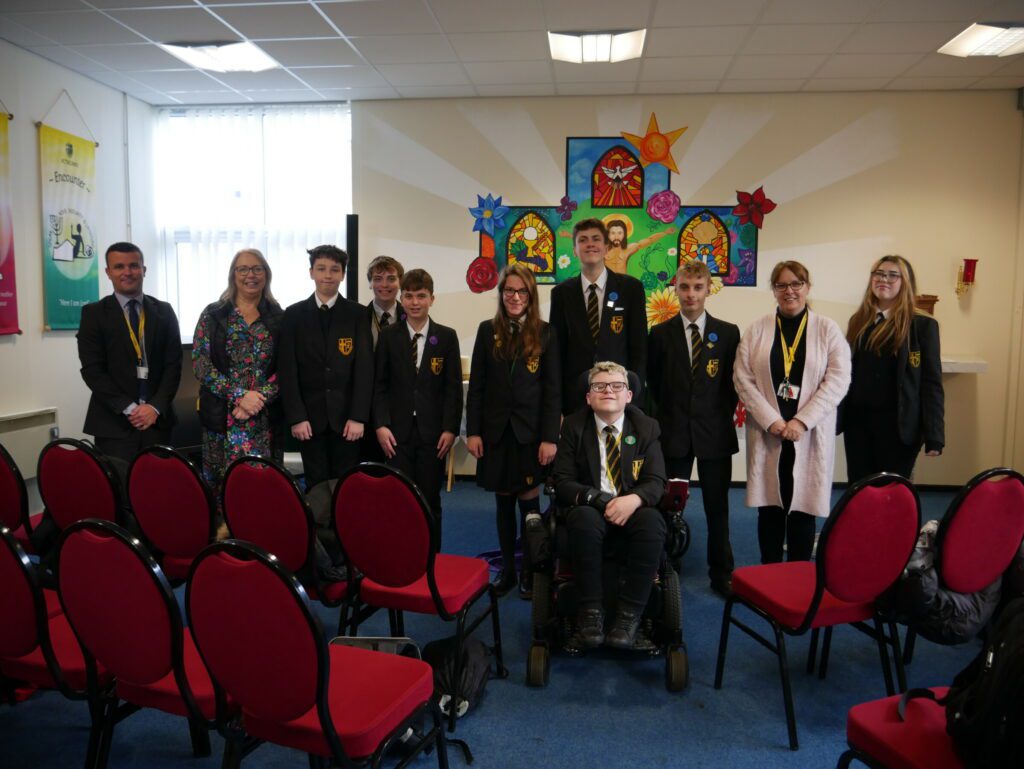 Over half term, our Year 9 Creative iMedia students were set the task to create something media based on the theme of "How to Avoid Boredom". Although there were a lot of impressive works submitted, two in particular stood out.
The first, a comic strip by Isabella Karim, about a character called Alice who can cure your boredom in all sorts of ways.
The second, a video created by Charlotte Walter with some handy tips that she uses to avoid getting bored.
A huge well done to those students for really thinking creatively and outside the box!
Y10 Biology students held a science fair this week to show their project work about the DNA molecule. Students were challenged to produce a model, a poster and find a piece of scripture to celebrate the awe and wonder of this area of molecular biology.
Some students used only recycled materials to ensure their models were eco-friendly and all students included A Level Biology content in their posters.
Students presented their work to their peers, all were confident and could use the higher level terminology to explain the new knowledge acquired.
As you can see they have all excelled themselves. Thank you to all the students, parents and carers who supported the event and also to the staff who took time out of their busy day to come and look at the projects.
A-Level & GCSE Certificates are available to collect from reception,
If someone is collecting on your behalf they will need written consent from the student they are collecting for.
We are inviting all parents and carers of students at Christ the King to stand for election as a parent governor or nominate other parents to do so. In our school we have provision for two parent governors and there is currently one vacancy. The term of office would be for four years.
Each Local Governing Body (LGB) of the 36 schools in the Our Lady of Lourdes Catholic Multi Academy Trust, of which our school is one, is a committee of the Trust Board and, as such, focuses on understanding how the school is being led and managed at the local level.
The LGB are the 'eyes and ears' of the Trust Board and have delegated responsibilities relating to strategy, oversight of Catholic Life and monitoring school improvement, whilst still remembering that the headteacher is responsible for the day to day running of the school.
The LGB also has responsibility for and a duty to the Bishop of Nottingham to ensure that the Catholic character of the school is preserved and developed.
No special qualifications are needed, and the most important thing is to have a keen interest in the school and be prepared to play an active part in the Local Governing Body's work. Committee meetings are half termly, held at school starting at 5pm till 6.30pm.
Training is available for all governors and there is an expectation that those new to being a governor attend induction training, complete mandatory training, as well as having a commitment to attend other training as necessary.
Candidates at the time of appointment must be a parent, or an individual exercising parental responsibility for a registered pupil at the school.
If you would like to stand for election, please complete the nomination form below and return it to the school no later than 9am Friday 13th October 2023. You should also include a short personal statement to support your nomination, which should be no longer than 250 words. Self-nominations will be accepted but if you are nominating another parent, please seek their prior consent.
If there are more nominations than vacancies, the election will be by secret ballot. If that is necessary, voting papers will be sent to all parents together with details of the ballot procedure.
If you have any queries or would like to find out more about the role, please contact the school office.
Certain people will be ineligible to become a parent governor; the following summarises the circumstances under which someone cannot serve.
Candidates will not be appointed if they are employed either on a permanent or temporary basis at the school
Candidates will not be appointed if they are related to a person employed in a senior position at the school (senior position is defined as Executive Head, Head Teacher, Head of School or Deputy Head)
Candidates will not normally be appointed if they are related to an existing governor of the school.
Candidates related to a member of the clergy connected to the school would not be appointed.
Further ineligibility criteria would be if the candidate:
is the subject of a bankruptcy restrictions order or an interim order, debt relief restrictions order, an interim debt relief restrictions order or their estate has been sequestrated and the sequestration has not been discharged, annulled or reduced is subject to a disqualification order or disqualification undertaking under the Company Directors Disqualification Act 1986, a disqualification order under Part 2 of the Companies (Northern Ireland) Order 1989, a disqualification undertaking accepted under the Company Directors Disqualification (Northern Ireland) Order 2002, or an order made under section 429(2)(b) of the Insolvency Act 1986 (failure to pay under county court administration order);
has been removed from the office of charity trustee or trustee for a charity by the Charity Commission or Commissioners or High Court on grounds of any misconduct or mismanagement, or under section 34 of the Charities and Trustee Investment (Scotland) Act  2005 from being concerned in the management or control of any body;
is included in the list of teachers or workers considered by the Secretary of State as unsuitable to work with children or young people;
is barred from any regulated activity relating to children;
is disqualified from working with children or from registering for childminding or providing day care;
is disqualified from being an independent school proprietor, teacher or employee by the Secretary of State;
has been sentenced to three months or more in prison (without the option of a fine) in the five years before becoming a governor or since becoming a governor;
has received a prison sentence of two years or more in the 20 years before becoming a governor;
has at any time received a prison sentence of five years or more;
has been fined for causing a nuisance or disturbance on school premises during the five years prior to or since appointment or election as a governor;
refuses a request by the clerk to make an application to the Disclosure and Barring Service (DBS) for a DBS Check.
Next week, we will be holding a series of Open Morning at CtK, which will provide parents, carers and students the opportunity to see our school at work and see the typical learning experienced by our students.
The open mornings will start at 9.10am and comprise of a tour of the school as well as the opportunity to ask questions and should last approximately one hour.
Our Partner Primary schools are invited to attend their open mornings on the following days –
Holy Cross and St. Margaret Clitherow – Monday 25th September
Sacred Heart – Tuesday 26th September
The Good Shepherd – Wednesday 27th September
We welcome all other primary schools on Thursday 28th and Friday 29th September.
To book your space, please contact 0115 9556262.
You can keep up to date with all the latest goings on at Christ the King and our Sixth Form by following us on Social Media!