Looking for ideas for what to do over this sunny half term?
Take a look at our list of activities, including free days out, to inspire you!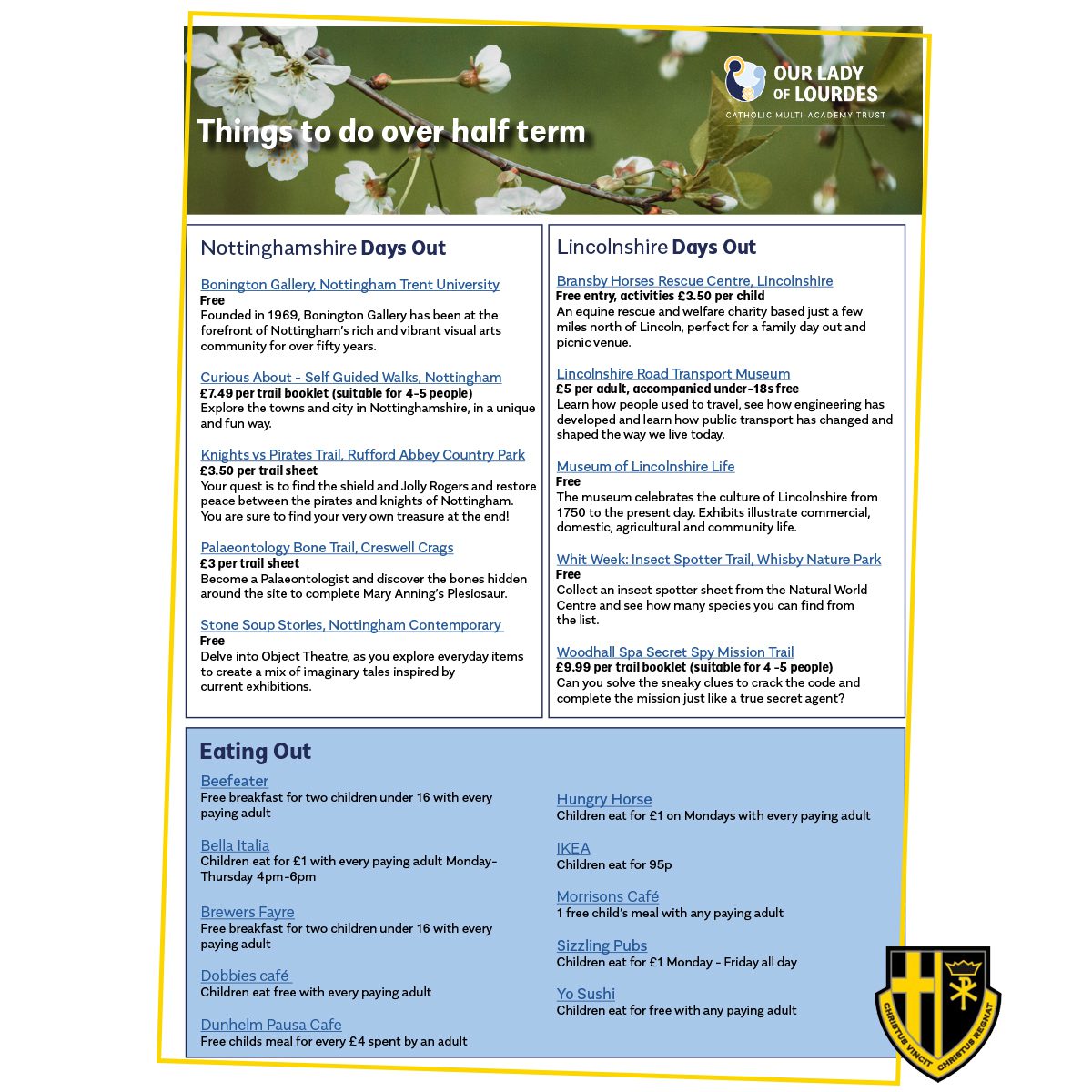 Students who volunteer with Culture Club are organising a week of activities to celebrate the diversity of cultures within our community. They will be seeking support from students, staff and parents with this.
During the week beginning 22nd May they will be leading on a different activity each day to encourage us to learn more about each other's cultural backgrounds. The week will include Acts of Worship, lesson activities, sharing cultural foods and many more activities. The week will finish with students and staff being invited to dress for school in clothes that represent their culture.
Students will be told more about this during form notices. If students would like to support the event they should speak to Mrs Nicolson and the Culture Club about the different ways that they can get involved.
We would like to start by saying thank you to everyone who sent through their child's option requests by the February deadline. The option groups for September 2023 have now been finalised and so if your child didn't receive a letter having a clash of subjects, this means that they have been successful in gaining all of the four option subjects that they selected.
However, sometimes students feel that they have selected a subject which they no longer with to study. If this is true for your child, please ask them to speak to Mr Riding who will be able to advise on what else they could study instead of that subject. Alternatively, you are welcome to contact him via email (ariding@christtheking.notts.sch.uk).
I hope that you have all had a wonderful Easter break. We are pleased to be welcoming our students back for the final term of this academic year. This is an important term, especially for our Year 11 and Year 13 students, as they work towards their final GCSE and A Level exams. We will continue to do all that we can to support them to reach their full potential. Please do all that you can to ensure that they attend school every day and that they arrive on time.
Please also support them in their preparations by talking to them about the importance of keeping active, eating healthily, ensuring that they get enough sleep and that they find the correct balance of studying and relaxation. We saw through their mock exams that a number of students are growing increasingly anxious about the upcoming exams. It is important that they hear the same messages from us all that we only want them to be doing their best, we cannot ask them to do more than that. I believe that as long as they work well with their teachers and put the effort in by revising independently then they will achieve the success that they deserve.
Jo Love Support our Eco Team!
To support the work of the Eco Team in school, this term the School Council will be organising a (RE)LoveOurStuff event, which will take place during the last week of term. This will allow us to develop our mission as Stewards of Creation, help cut our carbon footprint as well as make us think about the impact of fast fashion and textile waste.
Initially, the School Council will be organising a pop-up second-hand store, offering preloved uniform. To do this they will need your help and support. Could you please send in any preloved uniform donations, including PE kit, into school, either with students directly or drop it into the recycling tub in reception. Hopefully this will go a little way to help us reduce the 1.4 million school uniform that are thrown away every year as well as help us with the increasing cost of living that we are all experiencing.
If this proves to be successful, their aim is then to run this each term and extend it to include non-uniform items too.
After the school council will be looking to launch our Get Loud on Litter Campaign, the aim of which is to review the litter situation in school as well as make us all think about the amount of litter that we all produce and how we can dispose of this more effectively.
School Open Mornings
Some parents commented in our Parental Survey that due to Covid they had missed the opportunity to come into school. This has left them feeling quite disconnected from their child's experience.
We have reflected on this and decided that we would like to offer the opportunity for parents to come in to have a tour of the school.
To ensure that these visits do not disrupt the learning of our students there will need to be limits to the number of parents on site at the same time. If you would like to take up this offer, then please contact the school office to book an appointment.
The visits are being offered during the week commencing 20th March.
Parent Survey Results
We wanted to say thank you to all who took the time to complete the parental survey last half term. We had 275 responses. We always appreciate you taking the time to provide us with your views as your feedback allows us to identify the areas that you, as parents, feel that we are successful in as well as the areas for further improvement.
We are pleased to know that your children feel safe in school, that you feel that behaviour is good and that students are shown how to behave respectfully towards others. It is also good to hear that you value the Catholic Life and Mission of the school. We were also pleased to see that there have been improvements since the last survey on your responses to the questions about knowing what your children will learn and how well they are doing.
The areas that you have told us that you would like us to improve are related to communication and your involvement in the prayer life of the school. We have just launched the Arbor app which, when you all have access to this, will make communication smoother. We have also recently appointed a second Lay Chaplain to work across our hub who has lots of ideas about how we can involve you in the prayer life of the school so we will be sharing these with you soon.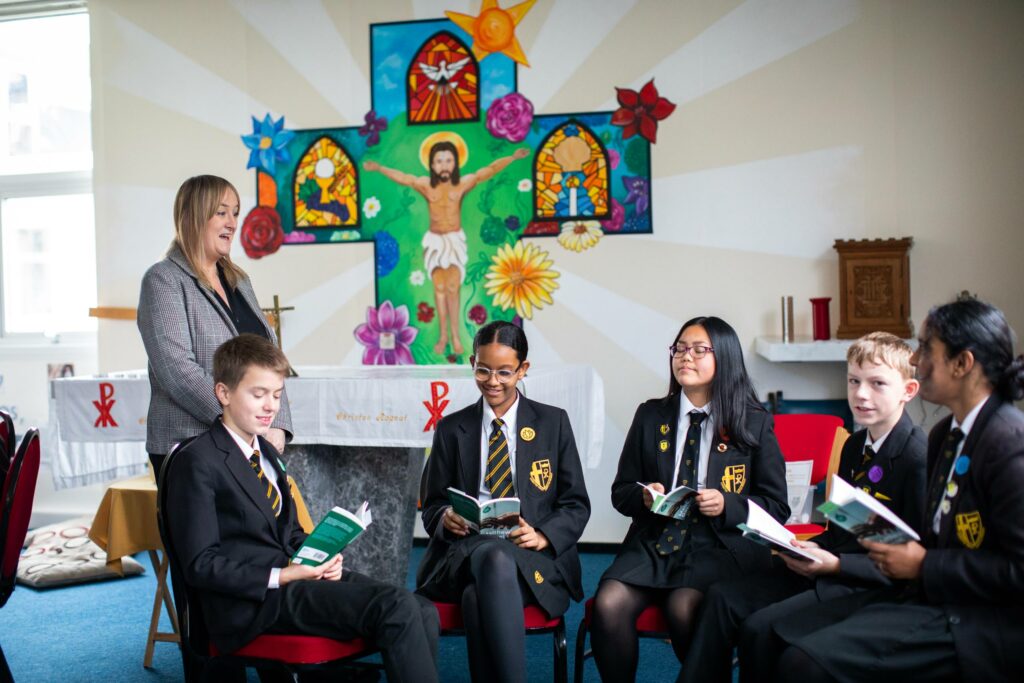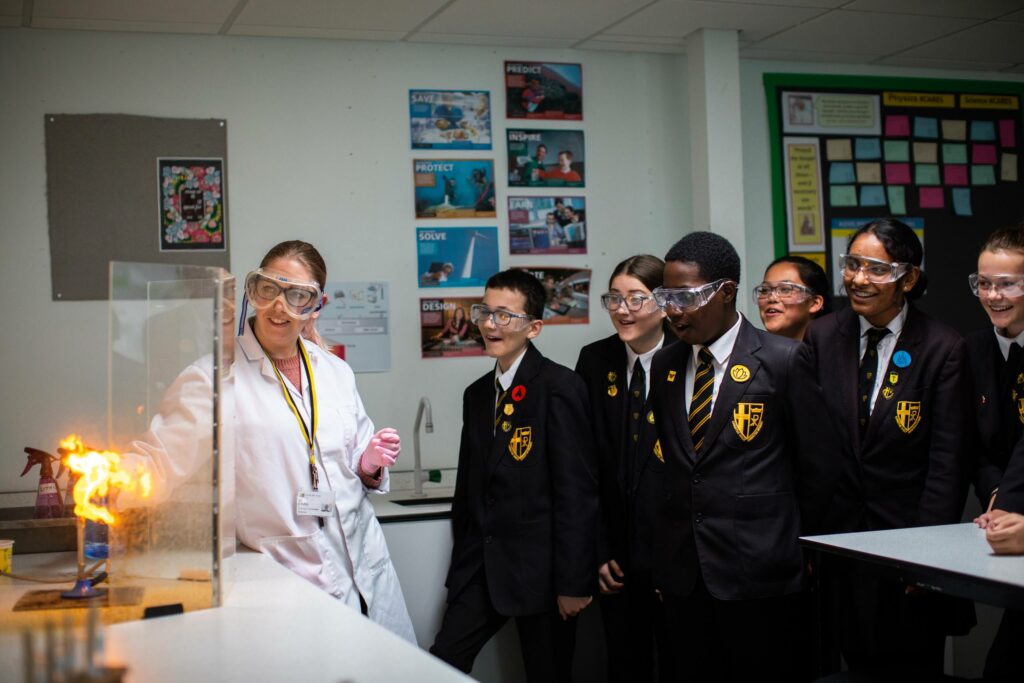 Cost of Living – How We Can Help
The cost of living crisis is affecting everyone in different ways. We are wanting to support all in our community in whatever ways that we can.
Uniform – if you have any items that your children have outgrown but that is still good quality perhaps you could donate that to school. If you need uniform, then please contact your child's tutor or Achievement Leader and we will see what we can do to support you with this.
Free School Meals – If your circumstances have changed you may be eligible to claim free school meals for your child. We know that parents are often reluctant to claim this as they are concerned others will know about it but as we operate a cashless system the meal would be claimed in the same way as if it was paid for using the squid account. Please make this claim if you are eligible as it provides access to other types of support that will allow your child to take part in enrichment activities and school trips. To find out if you are eligible please visit https://www.gov.uk/apply-free-school-meals
Little Acts of Kindness Fund – Our Trust has set up a fund to offer financial support for families and this fund can be used in a variety of ways. If you would like to find out more about this please look on the Trust website https://www.ololcatholicmat.co.uk/our-trust/little-acts-of-kindness-fund/.
You can email head@christtheking.notts.sch.uk if you need to make a claim from this fund.
The Christ the King Community showing that they care by supporting the SVP Summer Sleep Out
The SVP Summer Sleepout allows children and young people to experience what it is like to sleep outside for a night with only a sleeping bag, tent or cardboard box for comfort. This summer, we are encouraging students and their families to organise their own Sleep Out event in aid of the St Vincent de Paul Society  who work with those who are experiencing homelessness. This can be outdoors as a family, or alternatively with a couple of friends in a back garden.  We would appreciate any support with the SVP Summer Sleep Out. All funds raised will help to change the lives and support the most vulnerable in our communities. You can find more information about the work of the SVP here:  https://www.svp.org.uk/involve-young-people
To make a donation and for sponsorship by friends and family, please log on using this link: (give star once registered). https://giving.give-star.com/online/saint-vincent-de-paul-society-england-and-wales/christ-the-king-arnold-cares
Bishop Patrick McKinney is seeking to appoint new foundation
governors to our diocesan schools. Foundation governors play a vital
role in maintaining and developing the Catholic character of our
schools.