Christ the King CVA takes great pride in its work supporting charities and many events across the academic year. As a school, we like to combine fun activities with charity work so that students (and teachers) of any age can get involved for a good cause.
For example, last year when the sun finally burst out from behind the clouds, the school took to the field to watch a charity penalty shoot-out competition. At one pound a go, many stepped up to the spot and took a strike against Mr Morgan, the intimidating figure stopping some, but seeing a few rifled efforts send the crowd wild. This was a brilliant and fun afternoon that raised hundreds for Children in Need.
Other examples of our contributions to the community include the regular cake sales across the school grounds – a sweet service that is a go to in helping us raise money for charity.
We also collect food around the Harvest Festival and donate the collections to local homeless charities, coinciding with our mission as a school to help contribute to the community around us.
Currently, a large motivation for charity work is funding the school's trip to Cambodia – a trip that will see students and teachers travel to the country and do voluntary work for 4 weeks. Funding for the trip has been a persistent task that has seen car washes, hot chocolate sales and even a Christmas Fair take place; all in aid of this vocational trip.
Christ the King always takes pride in charity work and make an effort to carry out our mission as often as possible, so that we can provide for the community the way God would have wanted.
Joshua
You are invited to visit Christ the King Sixth Form on 17th October at 5:30 – 7:00pm, to see our vibrant Catholic community in action, see a variety of learning experiences and speak with our fantastic staff and students.
Our Sixth Form is at the heart of our school community, providing an outstanding Catholic education with high academic standards. We focus on the development of the whole person, ensuring our students are "wrapped in care and allowed to flourish" (Catholic School Inspection, May 2023)
Why join our Sixth Form?
Christ the King Sixth Form enables every student to achieve both their academic and personal potential. We are committed to ensuring that we set the highest academic standards for our students in an ambitious and supportive environment.
Our mission is 'To provide the best education and care we can for all members of our living faith community' and we are proud in how the young people in our care flourish personally and academically during their time here.
"Students in the Sixth Form appreciate the efforts that teachers make to help them
and as a result, they achieve well."
– Ofsted Report, May 2023
My name is Luke, I am in Year 12 and take Biology, Maths and Business.
The CTK CARE Charter is a fantastic way for Sixth Form students to not only improve their CV but also help younger students in many areas of education. I have personally helped with Business and IT lessons with Years 8 and 10. These sessions are great help for the teacher, since they can delegate tasks to me with specific groups, so that each student can receive more individual tuition.
As well as providing more individual support, as someone who has learnt the course myself, I can offer effective study tips to students that make remembering the content they have learnt easier. In addition to Business and IT lessons, I also help run dodgeball on Monday and Friday lunch times with Years 7-9. These sessions help me to develop and improve the many leader qualities that are required in a workplace.
Two other activities that I helped run was the Sixth Form Act of Worship every day for a week and talking to Year 11 about potential A-Levels to take post Year 11. Both activities helped improve personal skills such as public speaking and provided Year 11 with a different perspective of what life at CTK Sixth Form was like.
In total so far this year, I have completed 27 hours of support across the whole school community; this means I have completed both the bronze and silver certificates that I can add to my CV. These will help me stand out from other university applicants because some courses require more than just strong grades.
In conclusion, the CTK Care Charter helps all parties involved and is a great way for younger year groups to engage with more experienced Sixth Former students.
Luke
Catholic Life: Living the Mission of Community, Achieve, Respect, Encounter
As a Catholic Sixth Form student, you are not only a learner but a member of a community that has a mission statement of Community, Achieve, Respect, Encounter. This mission statement embodies the Catholic way of life, which seeks to foster a sense of belonging and purpose, while nurturing faith, learning, and service to others. In this article, we will explore what it means to live a Catholic life in the context of this mission statement.
Community
Community is the foundation of Catholic life. It is a community of believers who come together to worship, learn, and serve one another. As a Catholic Sixth Form student, you are part of a larger community of students, teachers, and staff who share your values, beliefs, and aspirations. You are called to live your life in a way that promotes the common good, serving others with generosity and compassion.
In the Catholic tradition, community is not just a physical gathering, but a spiritual connection. You are part of a body, the Church, which spans across time and space. This connection is expressed through the sacraments, which are the outward signs of God's grace working in your life. By participating in the sacraments, especially the Eucharist and Reconciliation, you deepen your relationship with God and with your community.
Achieve
Achievement is an important aspect of Catholic life. It is not just about getting good grades or achieving personal success, but about striving to be the best version of yourself, using your talents and abilities to make a positive difference in the world. As a Catholic Sixth Form student, you are called to use your education to serve others and contribute to the common good.
The Catholic tradition emphasises the importance of learning as a lifelong process. You are called to use your intellect to seek the truth and to make a positive impact on the world. This means not only acquiring knowledge, but also developing critical thinking skills, moral reasoning, and a deep appreciation for the arts and sciences.
Respect
Respect is a core value of Catholic life. It is about recognizing the dignity and worth of every human person, regardless of their background, beliefs, or circumstances. As a Catholic Sixth Form student, you are called to treat others with respect and to promote a culture of inclusion and diversity.
The Catholic tradition teaches that every human person is created in the image and likeness of God. This means that every person has inherent dignity and worth, regardless of their age, gender, race, or any other characteristic. You are called to promote a culture of life, respecting the sacredness of human life from conception to natural death.
Encounter
Encounter is a central aspect of Catholic life. It is about encountering God in the people and events of everyday life. As a Catholic sixth form student, you are called to be open to the presence of God in your life and to be attentive to the needs of others.
The Catholic tradition teaches that God is present in the world in a variety of ways. You are called to be open to encountering God in the sacraments, prayer, Scripture, and in the people around you. You are also called to be attentive to the needs of others, especially the poor, the marginalised, and the vulnerable.
Conclusion
Living a Catholic life is about embracing the mission of Community, Achieve, Respect, Encounter. It is about being part of a community of believers who come together to worship, learn, and serve one another. It is about using your education and talents to make a positive impact on the world, while treating others with respect and promoting a culture of inclusion and diversity. It is about being open to encountering God in the people and events of everyday life and being attentive to the needs of others.
Tony
On Monday, a speaker from the Houses of Parliament visited our Sixth Form to speak with about representation, and how issues get debated and spoken about in parliament. They also discussed how the Houses and Commons and Lords all work together.
As you can see, it was a full house of students!
On Friday, the Sixth Form students had their retreat day at the Good Shepherd Church.
They spent the time reflecting upon their own faith and roles within our Sixth Form and wider community.
This week, 4 of our Sixth Form Students have been campaigning for votes for Head Student. Two out of the four will be elected this prestigious title, and the votes will be cast by students and staff.
The nominees have created videos that will be shown during form time, where they will also visit throughout the week. They are also addressing staff in the Staff Room, and presenting to students in the Hall.
Here's an introduction to the nominees –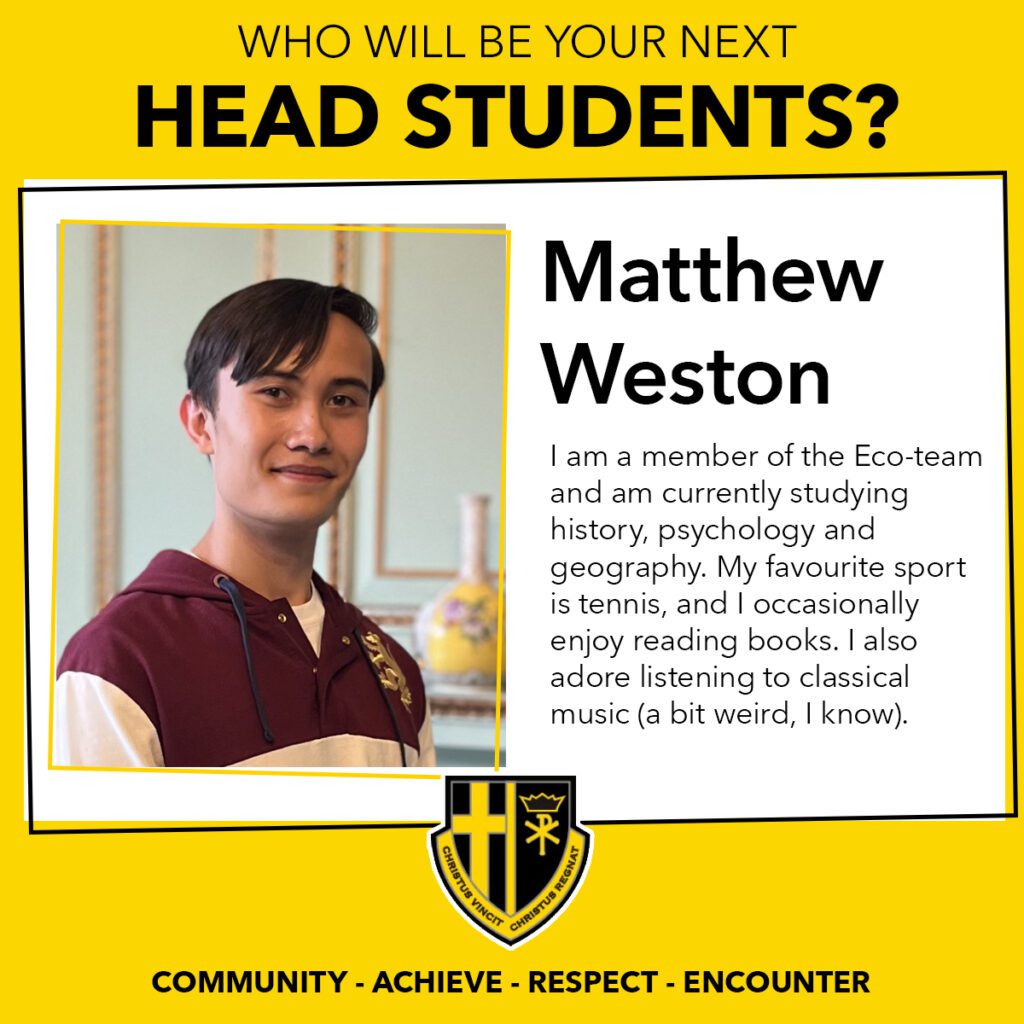 Why do you think you should be head student?
Experience. The primary reason to why I should be Head Student is that unlike the other candidates for the role, I am an active councilor of the Sixth storm Council.
What would you hope to do as head student?
My headline to what I would do in this position is to reform both the Student Council and Sixth Form Council, increasing cooperation, through this I am confident in the formation of lasting results for the school.
What's your favourite subject at Sixth Form?
By a long mile, history.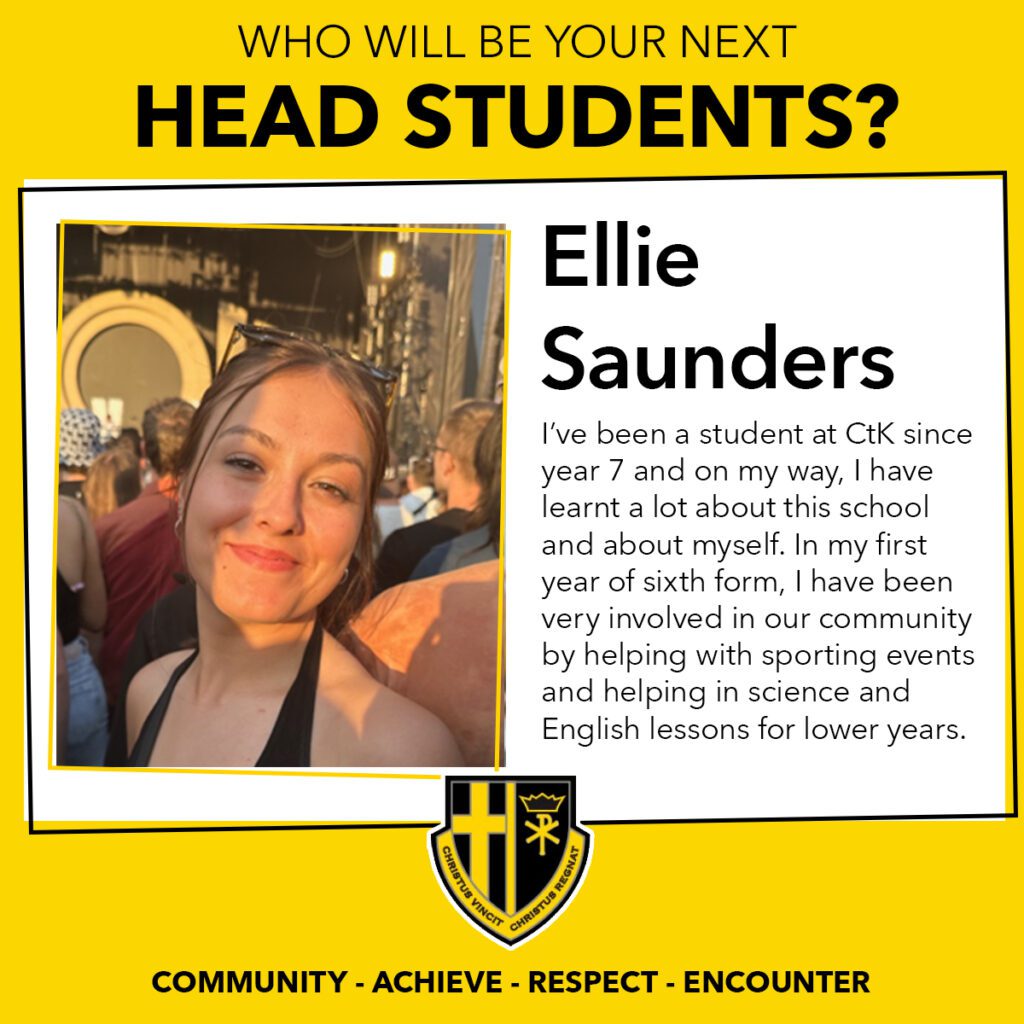 Why do you think you should be head student?
I believe I should be head student because I am a confident person who strives for change. I believe I can push for good in our school and extended community by not only bringing my own ideas but also raising the ideas of my peers.
What would you hope to do as head student?
As head student I would like to implement tutoring schemes to help students and current and future year 7's with their transition. I know a lot of these changes will cost lots of money so I would also like to lead lots of fundraising events to raise funds but also to bring our school closer together.
What's your favourite subject at Sixth Form?
For my A levels I am taking Biology, Chemistry and Sociology. I find it hard to choose a favourite subject as they all contain aspects I enjoy but as I want to pursue a science based course at university I would have to choose Biology and Chemistry.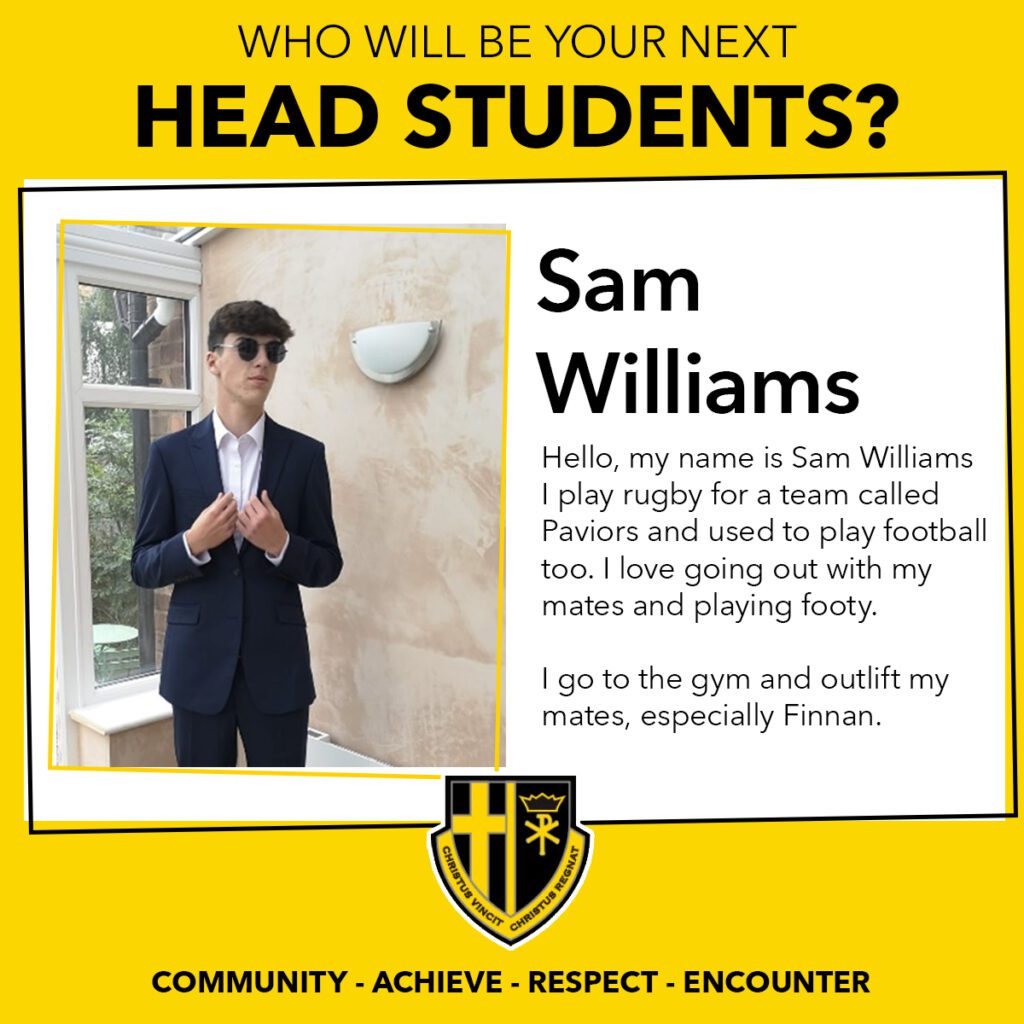 Why do you think you should be head student?
 I think that I would be a great head student because I am an extremely confident, competitive and hard-working person who will do anything to win and can speak in front of anyone.
What would you hope to do as head student?
 I also have a few good ideas to help improve the student experience at CtK such as sporting competitions and activities which will help girls and boys socialise and have fun. I also want to improve the products in the canteen. Anyone can approach me and suggest ideas.
What's your favourite subject at Sixth Form?
In 6th form I take history, business and media. I cannot choose a favourite as I enjoy them all. I have a great relationships with all my teachers.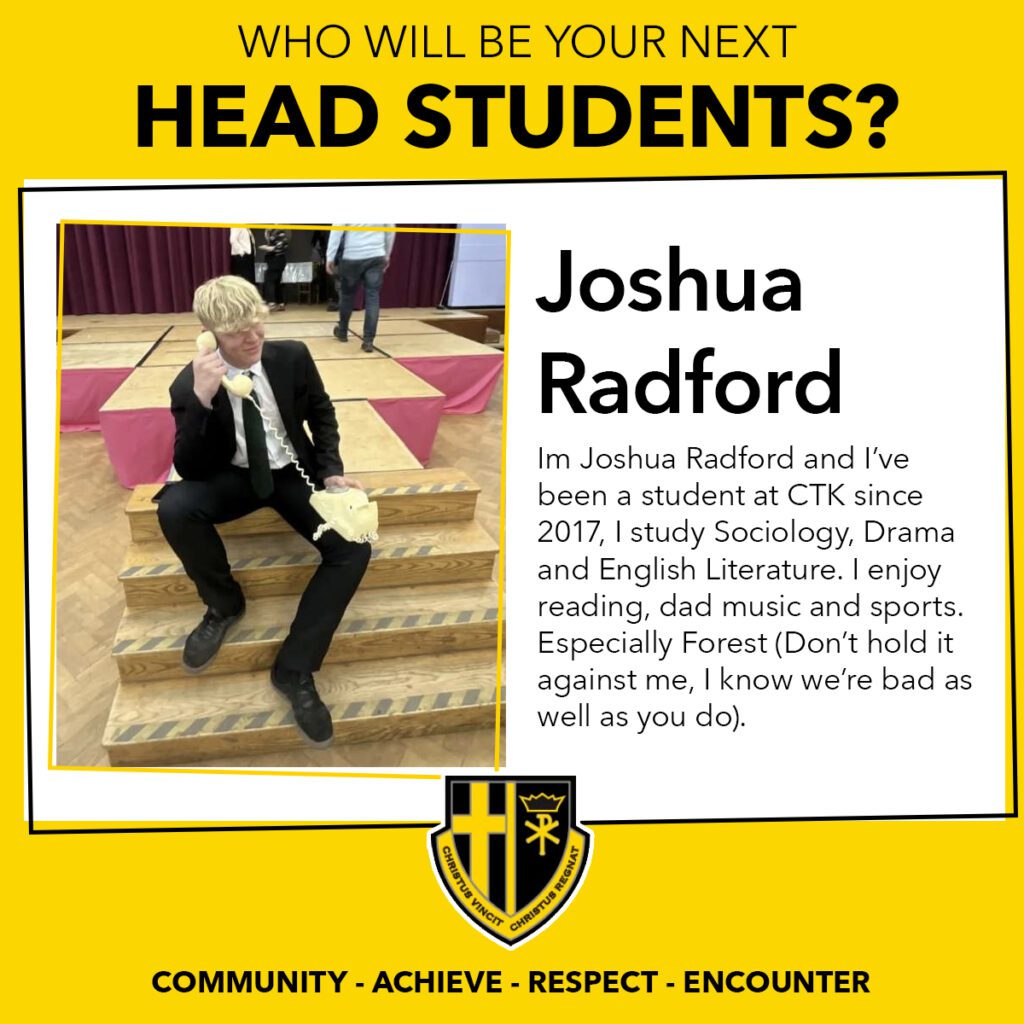 Why do you think you should be head student?
I think I should be head student because I don't want my campaign to be about me, I want it to be about everyone in the school. I'm a confident public speaker and believe I'd be a good fit to represent the community or Christ the King.
What would you hope to do as head student?
I would hope to run lots of polls, surveys, and open suggestion boxes around the school so that I can work on any problem anyone has. Making sure any student can be heard by teachers, even if they might be nervous to raise the issue themselves.
What's your favourite subject at Sixth Form?
My favourite subject is sociology because I enjoy studying the way society works and voicing my opinion on the many current affairs we discuss in class.
Our Sixth Form students both past and present have been working hard putting together a brand new magazine called "Beyond the Classroom". In it they share their experiences during their time studying here at CTK Sixth Form, their tips for success and have a little fun along the way.
We hope you enjoy it and gain a deeper insight into what life is like here at CTK Sixth Form.
We have had a large number of Year 11 students applying to remain with us in Sixth Form from September 2023 and we will find out on GCSE results day if they have been successful in gaining a place. However, there is still time to apply for a place in sixth form if your child already attends CTK. If you wish for your child to apply for a place, please contact Mr Reddington nreddington@christtheking.notts.sch.uk who will be able to provide them with an application form to complete.
Please remember what we will provide for your child if they choose to stay with us in sixth form:
Expert teaching with small class sizes ensuring that students gain good results
A strong sense of community – current sixth form students comment that they enjoy being separate from the other students but still a big part of the community at CTK
Excellent support – our teachers know your children and what helps them to learn, be successful and happy.
The step up to Post 16 education is difficult and each year, many students who leave to start at college end up coming back to our sixth form stating that they miss the huge level of support that staff at our school give them.  Please make contact with Mr Reddington should you have any questions about our sixth form.
CTK Care Charter Update
During each academic year, our sixth form students take part in the 'CTK Care Charter' where each students logs the hours that they volunteer within the school community.
The students lead on activities such as paired reading, delivering extra-curricular clubs, supporting students in lessons and mentoring students from younger year groups.
Rewards are given out at the end of each academic year based on the number of 'logged' hours that students undertake.
Students then use this information to support their applications for Universities, Higher-Level Apprenticeships or part time work during their studies.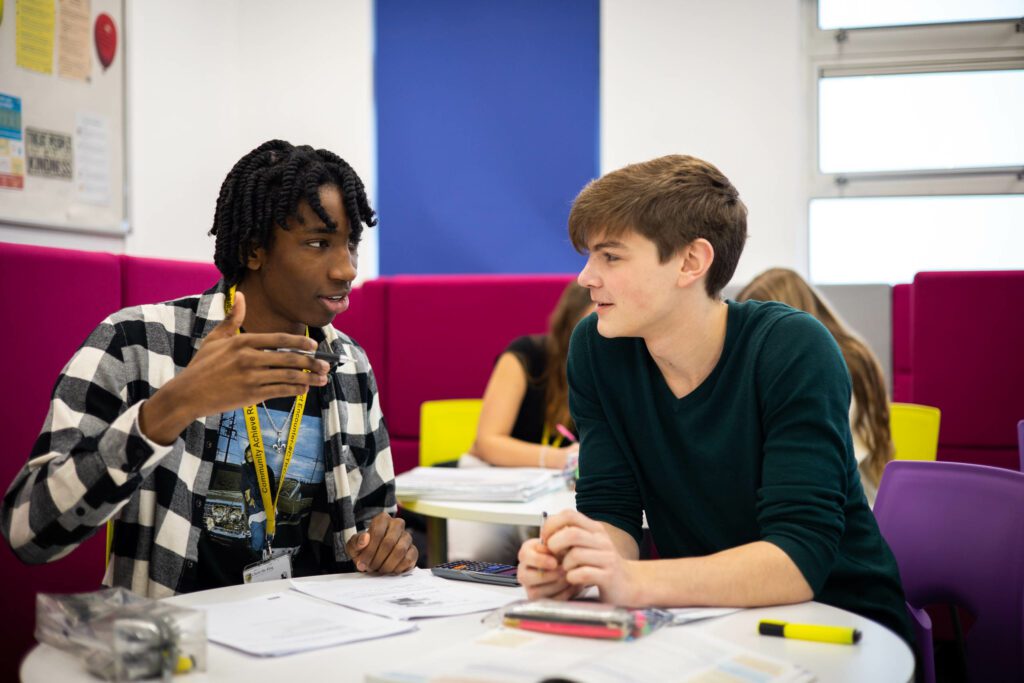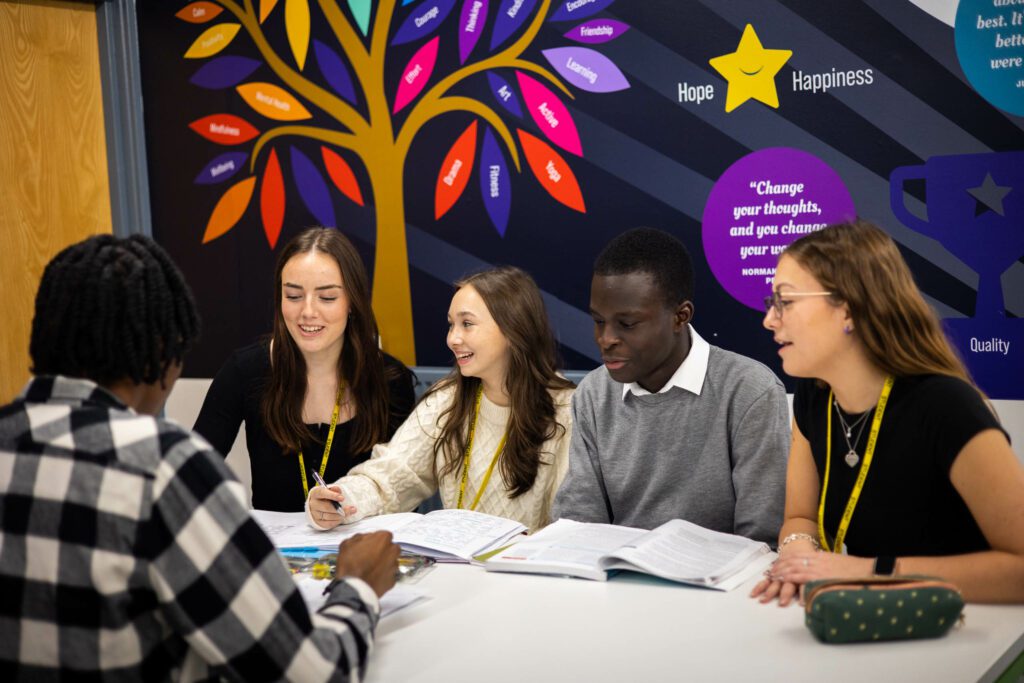 Our sixth form students have also led a number of fundraising activities with the rest of the school, raising over £800 for Children in Need through events such as 'Soak the Teacher' and homemade bake sales.
To find out more about our Sixth Form enrichment opportunitues, take a look here.
With the help of their form tutors, our Year 13 students have recently submitted their UCAS and Higher-Level Apprenticeship applications. In recent weeks, students have had interviews at institutions such as Cambridge University and other Russell Group Universities. We are extremely proud of our sixth form students and wish them the best of luck in preparation for the next steps in their education.