All students in Year 7 and 8 will be provided with Knowledge Organisers at the start of each term. We believe that knowledge organisers will have a positive impact on your child's achievement and approach to revision, providing them with the best opportunity to be successful during assessments and examinations. Our expert teachers have created our own set of Knowledge Organisers which will be used both at home and during lesson time.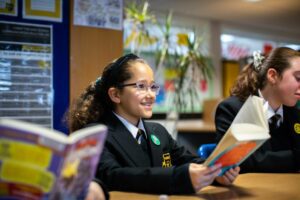 Educational research suggests that knowledge organisers have a significant impact on the progress made by all students, no matter what their academic ability. As a parent wishing to develop their child's knowledge, it will also provide you with the opportunity to support your child at home, using a consistent approach that will be implemented across all subject areas for Key Stage 3.
What are knowledge organisers?
A knowledge organiser is a set of key facts or information that students need to know and be able to recall in order to master a unit or topic within each subject that they study. Typically, a knowledge organiser fits onto one page of A4, helping students to visualise the layout of the page, which in turn helps them to memorise the information more effectively. Retention of this knowledge will support your child as they progress from Key Stage 3 into Key Stage 4.