We are currently updating this area of our school website.
September 2023 Applications
If you would like more information about applying to our sixth form to start in September 2023, please contact Mr Reddington who is our Head of Sixth Form. Mr Reddington will be happy to discuss our entry requirements with you, as well as talk to you about the courses that we offer here at Christ the King. Mr Reddington will also be able to send you our application form which must be completed in order to gain a place within our sixth form.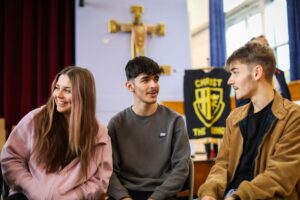 Mr Reddington's contact details are:
Email: nreddington@christtheking.notts.sch.uk
Tel: 0115 955 6262
Post-16 Open Evening
Our Post-16 Open Evening took place on Thursday 13th October. After an initial meeting in the hall, parents/students were able to go and speak to subject leaders/class teachers to find out more about each course that is offered at Christ the King CVA. Each subject presented a variety of information such as the assessment requirements for each course and the future career pathways of studying that subject. Representatives from Year 12 and 13 were also present on the evening to offer student insight into the courses that we offer.
We offer a variety of A Level and vocational subjects, each of which have different entry criteria in order to ensure that your child is on the most suitable course for them.
Do not worry if you missed the evening! If you are interested in a place in sixth form and want to find out more information, please contact Mr Reddington on the email address noted above.